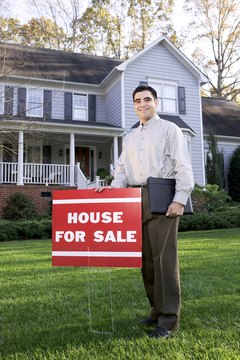 Federal Housing Administration, or FHA, home financing offers competitive interest rates and lower downpayments than traditional mortgages. The original "non-conforming" mortgage source, FHA is one source not totally dependent on your credit score for approval. HomePath financing is a Fannie Mae product designed to encourage buyers to purchase foreclosed homes now owned by Fannie Mae. HomePath financing also offers low down payments, similar to FHA, but there are some closing cost money differences that you should know.
Minimum Down Payment
HomePath minimum down payments are 3 percent of the selling price. FHA allows a minimum down payment of 3.5 percent. These are similar, but should you not have the extra 0.5 percent in cash, HomePath financing will have an edge. For example, if you buy a $200,000 home, FHA financing requires a minimum $7,000 downpayment. A HomePath mortgage loan necessitates a minimum downpayment of $6,000, a $1,000 savings.
Mortgage Insurance (MI)
FHA requires MI, while HomePath financing does not. The FHA upfront charge, payable at closing, for MI (as of the time of publication) is 1.75 percent of the selling price. Buying a $200,000 home with an FHA mortgage, with 3.5 percent down, would cost you $3,500 at closing. HomePath financing, available only on those homes in Fannie Mae's foreclosed "inventory," does not require MI, saving you $3,500 at closing. While HomePath requires no MI, with FHA loans, you can add their up front cost of MI to your loan amount, if necessary, to save you cash at closing. You can find HomePath homes for sale in your area by visiting www.homepath.com.
Home Appraisals
You will enjoy another HomePath closing cost savings, since using their financing does not require an appraisal. Depending on where the home is located, you will save between $375 and $600 for the average appraisal cost for getting a fair market value for a single-family home. FHA financing requires a fully supported home appraisal to verify the accuracy of the selling price at current market values. In some cases, lenders may demand that you get two appraisals, doubling your cost, to further support a home's selling price.
Seller Credits
Seller credits, which help reduce your closing costs, are acceptable with both HomePath and FHA. These credits can reduce your closing costs by up to 6 percent of the home's purchase price. For example, seller credits could reduce — or eliminate — closing costs up to $12,000 for a $200,000 home purchase. These credits are not "automatic." The buyer must ask for and the seller must agree to offer these credits, which effectively lowers the true selling price.
Stay Current with Changes
Both FHA and HomePath make frequent changes in features. You must stay up-to-date with current features of both programs. For example, FHA formerly charged 1 percent of a home's selling price for their up front mortgage insurance premium. In April 2012, FHA increased this charge to 1.75 percent. Changes in either FHA or HomePath programs can affect closing costs, loan terms and accurate comparisons. Closing costs require you to have access to cash above the downpayment you make and apply to all mortgage loans, regardless of their source.
Photo Credits
Thinkstock Images/Comstock/Getty Images