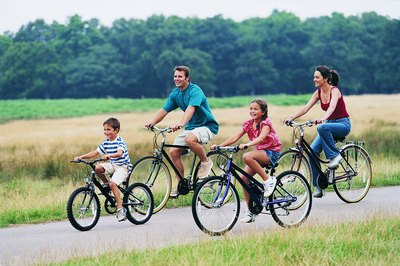 Family vacations can be adventures that turn into cherished memories, revisited at holiday dinners for years to come. As your family grows, traveling becomes more expensive, and parents need to get creative to keep vacations fun while staying within budget. Think outside the box for frugal family vacation destinations, and use your imagination to come up with free or inexpensive activities all ages can participate in and enjoy.
Family Staycation
One of the least expensive options for budget family travel is to take a vacation at home. Research nearby amusement parks, museums, national parks and activities that are within a driving distance of one to two hours of your home. Use coupons or discount days to plan day trips, and pack a special picnic lunch to keep costs down. Check for free admission days at your closest national park. When vacationing at home, turn off work cell phones and laptops, and plan at least one outing every couple of days to avoid boredom.
Nearby Vacation Destinations
Avoid the high costs of airline tickets and gasoline for long car trips by vacationing within a few hours of your home. Use a map to plot a radius of possible vacation destinations within a four-hour drive. Beaches, parks, and historical areas make great weekend trips. Consider planning your trip during the off-season or midweek to take advantage of reduced admission tickets and lodging costs. Choosing a nearby destination allows you to enjoy a few days away when a longer family vacation just isn't in the budget.
Camping
Tent camping is an excellent option for frugal families and those on a tight budget. Camping equipment is inexpensive and may be purchased second-hand or borrowed from friends or families. National and state parks sometimes offer cabins for rent. For families taking extended camping trips, a travel trailer has all the comforts of home. Plan your trip ahead and reserve your campsite online. Popular activities when camping include hiking, fishing, swimming and biking, all inexpensive and fun family activities.
Hostels and Home-swapping
Many hostels now offer family rooms and options for couples in addition to those for single travelers. Hostels offer simple accommodations and are often located in metropolitan areas and larger cities. Home-swapping -- or home exchange -- is an option for budget-conscious families who offer their own homes in exchange for a free stay in a home in another region, state or country. Staying in a hostel or home-swapping greatly reduces the cost of lodging, freeing up cash for families to spend on special day trips, amusement parks or shopping while on vacation.
Last-Minute Deals
If your family is determined to take a longer vacation in a far-away destination, search for last-minute deals on flights, hotels and rental cars. Packaged vacations and all-inclusive deals become much more affordable closer to the departure date, particularly in the off-season. Keep your travel costs low by limiting luggage to reduce or avoid baggage fees. If public transportation to your local airport isn't available, arrange for your family to be picked up and dropped off to avoid expensive airport parking charges. If your family includes small children, read the fine print of all-inclusive offers carefully. Some allow children under the age of 2 to vacation for free.
Photo Credits
Digital Vision./Digital Vision/Getty Images