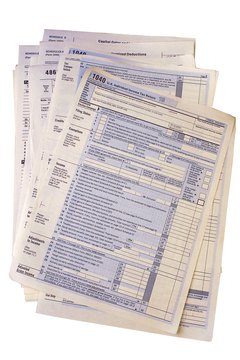 For many transactions, one of the parties must file an information form with the IRS, which must include the taxpayer identification number (TIN) of the other party. A W-9 form is used to request this number, either a social security or employer identification number. A 1099 form is one of these information forms. It's used for reporting various income other than wages.
Purpose of W-9
The IRS keeps track of things with TINs. If you are going to be paid interest, pay interest on a mortgage, buy or sell a house, make contributions to your IRA, or enter into almost any other transaction where money or property changes hands, the IRS will see if you reported the transaction properly by matching the TIN on your tax return to that on the information return reporting the transaction.
1099 Form
There are no less than 18 different 1099 forms, depending on the nature of the income. These include not only interest and dividends, but also debt cancellation, bartering transactions, pension plan distributions, proceeds of real estate sales, and a host of other items. The minimum amounts that must be reported range from no minimum to $10 for interest and dividends -- up to $20,000 for certain credit-card transactions.
Penalties for Failure to Provide TIN
If you don't provide your TIN when it's requested, you will be subject to backup withholding and a $50 fine. Backup withholding means that the income payer will withhold a portion of what is due you and send it to the government. You are also subject to backup withholding if you use a false TIN, or if you failed to report all your interest and dividends on your tax return. You have to certify on the W-9 that you are not subject to backup withholding. If you do so falsely, you may be fined $500 or be charged with a crime.
Other Considerations
Be sure you know why someone is asking for your TIN. The information on the form lends itself to identity theft, and it should not be supplied without careful investigation. It should also be transmitted securely so it doesn't fall into the wrong hands. Also be aware of the information returns the person requesting the form intends to send. Not all transactions require an information return, so if you're unsure about signing the W-9, check with your accountant.
Photo Credits
Comstock/Comstock/Getty Images