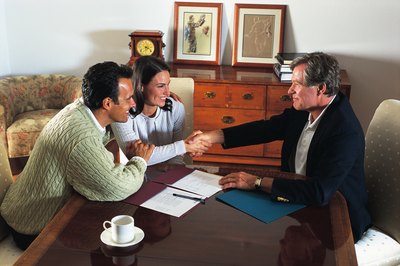 Since you have taken the plunge and made an offer to buy a house, your next step is choosing an insurance policy that protects your investment. Homeowners insurance covers the structure and your personal possessions, protects you in legal matters and provides funds to live elsewhere if your home is uninhabitable during repairs following damage to it. There are several questions you'll want answered to determine just how much insurance you'll need. Compare quotes after doing the research and before you commit to any one insurance carrier.
If you have a mortgage, your mortgage company requires that you carry insurance that covers the amount of your mortgage. You should go further and purchase coverage that pays for rebuilding your home. Many factors go into deciding the cost of rebuilding your house; among them are local building costs per square foot, type of construction, amenities like fireplaces or bay windows and any improvements you've made since purchasing your home. Also consider replacement-cost policies and a policy that includes guards against inflation. Your agent can answer your questions and direct you accordingly.
Most insurance companies cover personal possessions for up to 50 percent of the amount of the structure's insurance. For example, if your house is insured for $150,000, your stuff is insured for $75,000, but there are exceptions. In the case of theft, insurance is limited for luxury items like jewelry and furs. If your investment is substantial, consider adding a floater insurance policy for them. Investigate replacement-cost versus actual-cash value because that computer you bought five years ago probably will not be worth as much as it will cost to replace it. Explore all your options with your insurance company.
Homeowner policies cover you in the case of liability lawsuits, paying the cost for your defense in court and damages the court rules you pay. Coverage begins at $100,000. With today's litigant-rich society, it's a good idea to have a minimum of $300,000 in liability coverage, with $500,000 even better. Check with your insurance company, but in most cases, you'll find the cost of upgrading your policy is insignificant given the peace of mind it provides.
If you can't live in your home because it has suffered severe damage because of a covered disaster, this portion of your policy will pay for expenses for living away from your home. While most policies limit this coverage to 20 percent of the insurance you carry on the structure, additional coverage may be available for an increase in premium. Check with your agent for details relevant to your policy.
Tip
If you do not have a mortgage, keep insurance on your home to protect this major investment.
Photo Credits
Comstock/Comstock/Getty Images