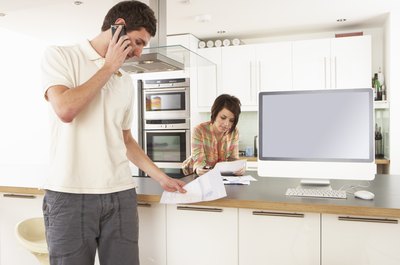 Getting a copy of your credit rating report is an important step to maintaining a good credit rating. Most U.S. adults have three credit bureau reports, issued by each of three competing companies. Obtaining a copy of your credit report is a legal right, and in most cases, free of charge. Experts recommend that consumers obtain copies of all three reports annually.
Determine if you are eligible to receive a free copy of your credit bureau report. There are two reasons you are legally eligible to receive your credit reports free of charge. If you have been denied credit because of information on a credit report, you have a right to obtain that report free of charge. If you don't know which report was used for the denial, you can obtain all three. You also have the right to a free report from each of the three credit bureau companies once per year. If you provide your email address, you will receive an automatic reminder. To do so, go to AnnualCreditReport.com where you can get all three credit reports. You can also call toll-free at 877-322-8228.
Alternatively, each of the three credit bureau companies has its own website if you prefer to order just one report. If you are not eligible for a report free of charge, this option may be preferable, as reports can cost as much as $15. All three websites have a prominent link on their home pages directing you to obtaining a copy of your credit report.
TransUnion and Equifax also offer the option to request a credit report by telephone. TransUnion's toll-free telephone is 800-888-4213. Equifax's toll-free telephone is 866-493-9788. Experian does not list a toll-free number, and specifies that phone numbers to the corporate and regional offices are not to be used to request credit reports.
Finally, if a computer or telephone call is not convenient, you can mail your request to the addresses below.
Annual Credit Report Request Service P.O. Box 105281 Atlanta, GA 30348-5281
TransUnion 2 Baldwin Place P.O. Box 1000 Chester, PA 19022
Equifax Credit Information Services, Inc P.O. Box 740241 Atlanta, GA 30374
Tip
Reviewing your credit report annually is a key step to preventing identity theft. Often, identity theft goes unchecked for years. Thereafter, resolving the theft and finding those responsible becomes a difficult task.
Resources
Photo Credits
Monkey Business Images Ltd/Valueline/Getty Images