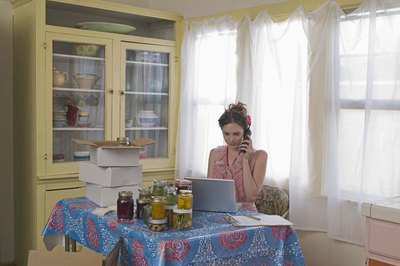 When the government established the IRA account it did so to encourage people to save and invest for a comfortable retirement. The government also set up rules that discouraged people from pulling money out of their IRA accounts early. The fact that the IRS imposes a 10 percent tax penalty on early withdrawals from IRA accounts is enough to convince many people to look for the money they need elsewhere and leave their retirement plans intact. The IRS does, however, provide an exemption that allows the cash in an IRA to be used to purchase a home under certain circumstances.
Review your most recent IRA statement, or log on to your account to check the balance in real time. The IRS allows you to withdraw up to $10,000 from your IRA to help with a first-time home purchase.
Make sure you qualify as a firs-time home buyer under the law before you pull money out of your IRA. Your tax preparer or CPA can help you determine your eligibility.
Contact the administrator of your IRA plan and inform them you wish to withdraw money from your IRA to finance a first-time home purchase. Let the representative know how much you want to withdraw. You can withdraw up to $10,000 without paying a tax penalty.
Complete the paperwork required to withdraw the money from your IRA. Submit the paperwork to the custodian of the plan and indicate whether you want to receive the money via check or direct deposit.
Use the money you withdrew to purchase the home. Keep copies of your closing paperwork and purchase documentation with your tax records. You will need this documentation to prove to the IRS that the money was used to purchase a first home.
Photo Credits
Jupiterimages/Brand X Pictures/Getty Images