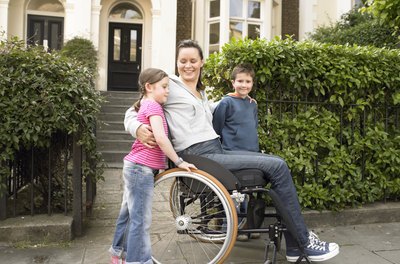 Gone are the days when lenders just took your word for it. Lenders now double-check your income levels and are conservative about issuing loans. Your disability income may qualify you for a new home, but you must meet all other underwriting guidelines to get your approval. You are eligible for a home loan if you have a disability, but you may have more hoops to jump through. Fortunately, you may have other options due to your disability including government-sponsored programs and grants.
Permanent Vs. Temporary Disability
Mortgage underwriting guidelines require written proof of income to process your loan application. You need an income verification letter from the Social Security Administration which states your disability income and its duration. According to the New York Times, lenders must document that the income is guaranteed to continue for at least three years. Applicants on temporary disability do not qualify. You need to wait until you return to work to submit your mortgage application.
Underwriting Qualifications
Even with significant disability income, you may encounter other hurdles. You must qualify for the home loan based on mortgage underwriting qualifications including credit history and debt-to-income ratios. Lenders want to see a good credit history showing responsible use of credit. Your debt-to-income ratio should be less than 36 percent, meaning your total monthly debt obligations should be 36 percent or less of your income. Without meeting these criteria, you are on the path to a denial.
HomeChoice Program
With your disability, you have other options available to you. Fannie Mae's HomeChoice program helps those with a disability secure a mortgage. You make between a $500 and 2 percent down payment on the property. Lenders use your household budget instead of the debt-to-income ratio to approve your application as well as relaxed credit criteria.
Assistance Programs
According to Bankrate, Habitat for Humanity builds homes for disabled individuals. The home are cosponsored by mortgage programs targeted to help those in need get a mortgage. You may also look into the Housing and Urban Development's Section 8 program, which offers low-income families vouchers to subsidize the cost of renting and buying a home. Your disability may also qualify you for various grants and programs to lower your closing costs and down payment. The National Opportunities for Affordable Housing Foundation offers a host of resources to help you get into a home.
Resources
Photo Credits
John Rowley/Photodisc/Getty Images