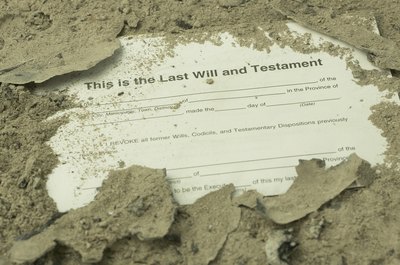 Along with memories and family heritage, most people consider dealing with inheritance taxes to be inevitable, confusing and painful. In reality, it does not need to be any of those things. In the United States, the term "inheritance tax, often confused with "estate tax," is sometimes referred to as a "death duty." To be clear, inheritance taxes are paid individually, by the beneficiaries of an estate on the property they inherit. On the other hand, estate taxes, if any are owed, are paid by the estate directed to the governmental agency levying them.
Seven Steps To Determine Inheritance Liability
Determine if you will owe inheritance tax. Our federal IRS tax code does not set a specific inheritance tax rate, and most states don't have an inheritance tax. You will need to check first to see if you live in a state where inheritance tax is collected. Go to an inheritance tax calculator like Calculate Inheritance Tax.com and plug in your state to find out. Unless the inheritance is quite large, you can probably manage the calculations yourself using a tool like this.
Hire an attorney. If your inheritance is complicated or large -- $3.5 million or more -- or you are at all worried about doing the calculations, you may want to hire an attorney who specializes in inheritance tax.
Determine fair market value of the inheritance. This involves placing a value on the cash, stocks, bonds, real estate, life insurance, vehicles, antiques, jewelry or other property that you inherit. You will need to confirm that you hold the latest documents for items like life insurance, stocks and bonds. You may need to get appraisals of jewelry or antiques, if these valuations haven't been done recently. In the case of autos, check their Blue Book value.
Compile the total debts outstanding to the gross inheritance. These can include things like outstanding mortgages, tax liens, medical bills, utilities, or estate settlement fees that must be paid before the inheritance is dispersed. If you are due to inherit only a portion of an estate, these outstanding debts, also known as liabilities, will need to be paid before the estate is divided and could significantly affect the amount you receive. If you are inheriting only a specific item, this will not concern you.
Determine the net value of your inheritance. This is the balance between the fair market value and the outstanding debts. In the case of an estate being divided among a number of siblings, cousins, or friends who are named beneficiaries, to arrive at the net value, subtract the outstanding liabilities from the estate's gross market value. Then divide it per the directions of the will or as agreed upon by the beneficiaries.
Offset inheritance with the Federal Unified Credit. The U.S. government, via the IRS, provides this tool to allow you to apply inheritance credits, estate exemptions and gift receipt credits to offset the value of an inheritance for tax purposes. This credit covers everything from a life insurance benefit, which is taxable, to offsets of most, or all, tax liability for real estate, stocks, bonds, cars, jewelry or antiques.
Determine if you are eligible for what is called the Federal Lifetime Credit. The U.S. government provides each individual this one-time credit, which allows you to receive a one-time, $1 million inheritance credit. This credit, when applied to offset any state taxes you many owe on inheritance and gifts, actually represents a $345,800 tax credit.
Items you will need
Life insurance documentation

Will naming you as a beneficiary

Death certificate

Stocks, bonds, checking and savings account numbers

Appraisals of real estate, jewelry, antiques

Auto titles, bills of sale and current Blue Book values

Recap of outstanding estate debts and expenses

Access to current U.S. Tax Code documents
Tip
Take the time to read about your own state's inheritance laws before you need to access them. When someone you love dies, the grief and turbulent activity can prevent you from clear thinking for weeks and sometimes months.
Warning
Be sure when looking for the federal Unified Credit and the Lifetime Credit that you are looking at the very latest tax laws, as the dollar limits on inheritance credits have risen steadily over the past decade.
Photo Credits
Hemera Technologies/AbleStock.com/Getty Images