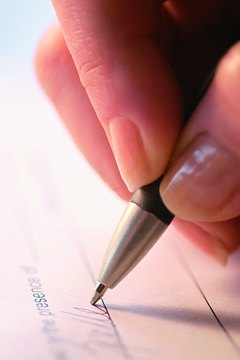 It's not always easy, and never fun, to keep track of how much you owe on a loan. Still, tracking your progress on paying down a loan keeps the loan picture -- and therefore your financial picture -- in sharp focus. You just need to do some basic arithmetic to calculate what remains on a promissory note.
Interest-Free Loan
Get out the promissory note. Find the original amount to be repaid. For this example, suppose the loan amount is $12,000, where the principal equals $10,000 and the interest equals $2,000.
Find your payment records either in a payment booklet, through an online account, or using cancelled checks or bank and credit card statements.
Tally up your payments to date. For example, if you have made 10 payments of $700 each, your total equals 10 times $700, or $7,000.
Deduct your total payments amount from the original note amount. For example, if your payments so far total $7,000, then your balance owed is $5,000.
Tip
If you cannot find your loan and payment documentation, you can always contact the lender to get the balance owed.
Warning
If you have not made timely payments and your promissory note includes late-payment penalties, add those penalties to the amount you owe.
References
Photo Credits
Jupiterimages/liquidlibrary/Getty Images