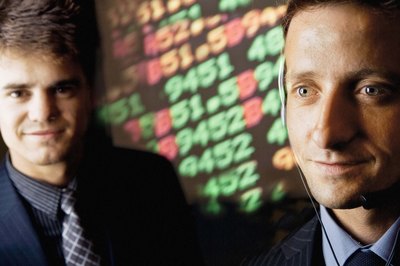 Buying stock in the New York Stock Exchange requires homework and an account with a brokerage firm. It's a smart idea to pick a few companies and follow their stock results over time to get the hang of how the market works before investing, and your broker will periodically alert you to stocks that are likely to turn a profit. But smart investors who keep track of stocks and financial news daily are generally the ones who are on top of the New York Stock Exchange market game.
Learn to read stock market reports. Stock reports are published daily online and in newspapers and tell you current and past stock prices and other information.
Learn the company abbreviation symbols so you'll know who is who on the reports. Companies will list their abbreviations on websites and published materials, or you can find online sources with abbreviation indexes.
Contact a stock brokerage firm affiliated with the New York Stock Exchange and open an account. Opening an account requires an initial investment which varies from broker to broker, so find one you can afford.
Call your broker or go online when you want to buy and sell stocks. You will receive a quoted price for the stock and take care of the transaction from there. You'll generally receive a monthly statement of your account, or may access a daily online statement if your brokerage company provides online services.
Tips
Keep in mind that you'll pay a commission each time you buy or sell, so that's another point to keep in mind when shopping around for brokers and when figuring your profits and losses. Each brokerage firm has their own set of commission rates.

When a broker recommends a stock, ask plenty of questions and request a prospectus if you're not certain. A prospectus is generated by the company you're investing in, and tells you all the pertinent financial and company information you'll need to make a smart investment choice.
Warnings
Investing in the stock market is incredibly risky if you don't know what you're doing. Take plenty of time to learn about stock investing and the companies you're interested in. Going in "blind" can clean out your account pretty quickly if you're not careful.

If you are having trouble with your broker or suspect a deal is shady, contact the U.S. Securities and Exchange Commission. Also called the SEC, this government agency establishes rules for brokers and stock trading.
Photo Credits
Jupiterimages/Goodshoot/Getty Images