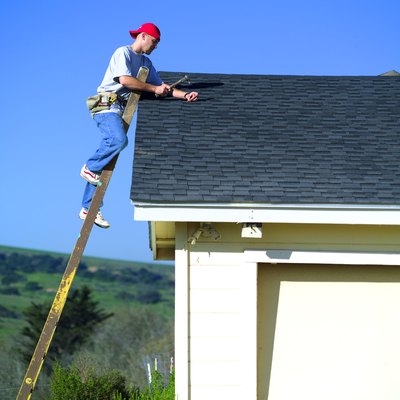 Home buyers looking for a good deal can buy a distressed property and finance its repairs with a single loan. Pre-foreclosure and bank-owned real estate properties often require rehabilitation because previous owners allowed them to fall into disrepair. You can get a home and pay for its renovation with the Federal Housing Administration's Section 203(k) loan or Fannie Mae's HomePath Renovation mortgage. Borrower circumstances and property conditions, such as the amount of rehabilitation needed, determine which loan is best.
Borrower Circumstances
The FHA helps buyers who intend to occupy a home as their primary residence. The government agency pays lender losses when homeowners default, enabling mortgage lenders to finance riskier borrowers with moderate incomes and credit challenges. A 203k rehab borrower must occupy the home as his primary residence upon work completion. The HomePath Renovation loan is available to investors and owner-occupants. Investors may purchase a HomePath property to use as a second home or investment property after renovation.
Property Circumstances
The 203k rehab loan covers a wide range of properties, whereas a HomePath renovation loan is restricted to Fannie Mae-owned homes. The 203k loan applies to foreclosed and non-foreclosed homes in need of light to substantial repair. It can also be used to finance the purchase of a Fannie Mae-owned home. HomePath is intended for light to moderate renovation. The FHA does not allow borrowers to rehab funds for luxury items such as adding a pool or a spa, but HomePath does, according to Bankrate.com.
Loan Amounts
The FHA sets loan limits by area, depending on median home values. Most areas have a limit of $271,050, but some of the highest-priced areas have a cap of $625,500 to $729,750. Due to higher loan limits in some areas, you can get a higher loan amount with a 203k loan than a HomePath loan, according to Bankrate.com. A loan-to-value ratio compares the amount financed to the property's projected value after renovation. The LTV for the 203k loan is 96.5 percent, whereas the HomePath LTV is 97 percent for owner-occupants and 90 percent for investors.
Considerations
The 203k loan comes with more restrictions for the construction process than HomePath. For example, the FHA requires you to hire a consultant to monitor progress. The consultant assesses the construction plan and completes inspections to ensure compliance with FHA guidelines. HomePath only requires an initial and final inspection. Also, the FHA has more up-front and recurring costs due to mortgage insurance, whereas HomePath has no mortgage insurance requirement.
Resources
Photo Credits
Brand X Pictures/Brand X Pictures/Getty Images