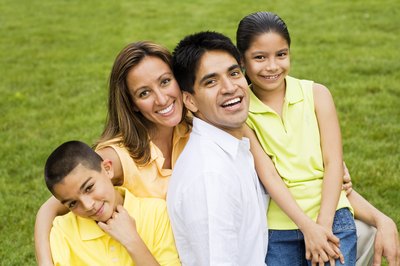 Claiming a dependent on your income tax return opens the door to several tax benefits, including a larger standard deduction, an exemption for the dependent, and the ability to claim several credits and deductions. Dependents are not limited to only your child. You can also claim a family member or close friend, if the person meets certain Internal Revenue Service guidelines.
Can You Show Parents as Dependents on Your Tax Return?
When you file your income taxes, you can claim almost anyone you support as a dependent – even your parent. There are two types of dependents – a qualifying child and a qualifying relative. A qualifying child is your relative who is younger than 19 or younger than 24 and a full-time student. A qualifying relative is someone who is not a qualifying child; your relative or someone who lives in your home as a member of your household the entire year; who relies on you for at least half of his support; and earns less than $3,700 in income as of 2012. The IRS also lets you to claim a relative, including a parent, who does not live in your house if you provide at least half of the relative's support. For example, if your mother lives in her own home, earns $2,100 a year and you pay $5,000 of her bills, because she earns less than $3,700 and you pay more than half of her bills, you can claim her as a dependent.
Can an Elderly Disabled Parent Be Claimed as a Dependent on Your IRS Refund?
The rules to claim an elderly disabled parent are not different from claiming a younger, healthy parent. The IRS does not impose an age test when determining whether a person is a qualifying relative. If your parent doesn't live with you, but lives in a home for the elderly or a rest home, as long as you pay more than half the cost to live in the home, you can still claim your parent as a dependent on your income taxes.
Can a Parent Write Off College Expenses in the Dependent's Name?
The IRS offers several tax breaks to parents and students who pay for tuition, books, supplies and other expenses for room and board. There are three ways for you to write off college expenses – the American Opportunity Tax Credit, the Lifetime Learning Credit and the tuition and fees deduction. When you pay expenses to attend college, the school must provide you with a Form 1098-T, which outlines the expenses paid for the year. Form 1098-T includes all of the information required to write off the college expenses. Generally, whoever pays the expenses for a student to attend college has the right to write off the expenses. If you are a parent who pays for qualified college expense and the child qualifies as your dependent, you can claim the expenses, regardless of who receives the 1098-T from the school.
Can a Student Deduct Educational Expenses if They Are Dependent on Their Parents Taxes?
Sometimes, students work to pay for college while living in their parents' home. If the parent provides at least half of the student's support and the student is younger than age 24, the parents can still claim the student as a dependent on their income tax return. Because the parents provided more than half of the student's support, the IRS considers the parents to have paid the educational expenses. This rule gives the parents the right to claim the expenses regardless of whether they actually paid for the student to attend college.
Does a Parent Claiming a Dependent Hurt the Student's Chance of Getting a Student Loan?
When applying for financial aid, including student loans, you must supply your income, and if you are younger than age 24, you must also supply your parents' income. The Free Application for Federal Student Aid (FAFSA) believes that all unmarried students younger than 24 are dependent students and determines eligibility for financial aid on the parents' income. Whether a parent claims the student does not affect the student's chance of getting a student loan because the FAFSA uses the parents' income to determine eligibility anyway.
Minimum Dollar Amount to Issue Form 1099
A 1099 is a form used by anyone other than an employer to report miscellaneous income. There are several types of 1099s, including Form 1099-MISC, 1099-DIV and 1099-G. Form 1099-MISC is the most common form used, which reports non-employee compensation, other income, rents and royalties. If you or your child received a 1099 at the end of the year, you earned income from a source other than your employer. If you earned more than $600, the company that paid you must supply you with a 1099 at the end of the year.
Photo Credits
Jupiterimages/Comstock/Getty Images