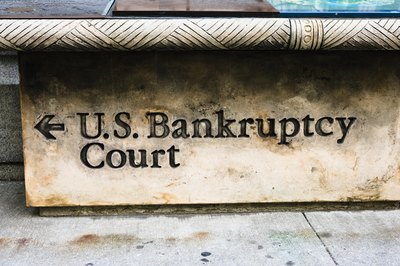 Technically, you can file bankruptcy as often as you would like. However, if you want the benefits of a bankruptcy discharge, which can wipe out all of your debts, you have to follow specific guidelines. The time period between discharges varies depending on the chapter of bankruptcy you originally filed under and the type you are choosing now. If you are filing after a case dismissal, you can usually file again right away unless you broke court rules.
Filing Chapter 7 Bankruptcy
If you file Chapter 7 bankruptcy, you have to wait the longest time between discharges. You must wait eight years to get a Chapter 7 discharge if you previously received a Chapter 7 discharge. If you are filing Chapter 7 after receiving a Chapter 13 discharge, you must generally wait six years. The exception is if you paid at least 70 percent or more of your debt back in your original Chapter 13. In that case, there is no waiting period.
Filing Chapter 13 Bankruptcy
If you file a Chapter 13 bankruptcy, you pay at least some of your debt back over either three or five years, depending on your income. The waiting period for filing a Chapter 13 case is shorter than a Chapter 7 case because of this payback. You only need to wait two years between successive Chapter 13 bankruptcies, or four years between an original Chapter 7 and a successive Chapter 13. Since the waiting period is between filing dates, and a Chapter 13 repayment plan lasts at least three years, you can usually file a successive Chapter 13 immediately after you finish an original Chapter 13 case.
After Dismissal
If you fail to complete your bankruptcy petition correctly, the court will generally dismiss your case. If the dismissal is due to incorrect paperwork or other common errors, you can file bankruptcy again immediately. However, in some cases you will have to wait 180 days to file again. Failure to obey court orders, such as attending your meeting of creditors, or filing a fraudulent petition or one that abuses the system can result in the 180-day ban. You will also have to wait to refile if you voluntarily seek dismissal after a creditor requested relief from the automatic stay.
After Dismissal With Prejudice
In extreme cases, you may be banned for life from refiling a bankruptcy petition. If you blatantly defraud creditors in your petition, the court may not allow you to seek bankruptcy protection again. Red flags for the court include concealing property or other assets, lying to the court about your financial position or running up debts you clearly had no intention to repay. This ban applies whether or not you have been granted a bankruptcy discharge in the past.
Photo Credits
Jupiterimages/Photos.com/Getty Images