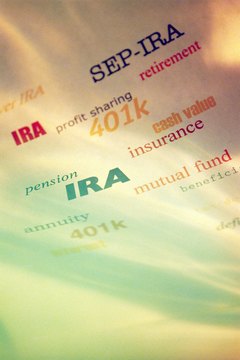 Just because your individual retirement account is meant for long-term investments doesn't mean you should just stop paying attention to it while you are young. Numerous sources can help you keep track of your IRA, both in terms of the investments in the account and the terms of the account itself. Monitoring your account is particularly important if you have made any after-tax contributions to your IRA, as these are generally not taxable when you withdraw them. However, without keeping track of these types of deposits, you may end up paying tax on those distributions after all.
Step 1
Review and store your monthly statements. Your financial services firm must send you account statements at least quarterly, per the Financial Industry Regulatory Authority, and many firms send out statements monthly. Your account statement will list your investments and show their current value.
Step 2
Monitor your account information online. If you have a long-term investment plan in place, your monthly statements may be enough information to keep track of your IRA. However, if you are an active trader, you may want to keep track of your IRA more often by logging on to your firm's website and checking your current values, which are often updated in real time.
Step 3
Check your tax returns for IRA contributions. While your financial services firm will usually keep a record of your IRA contributions, you must also file them with your taxes so you can claim any applicable tax deductions. If you make any non-deductible contributions, there should still be a record on your tax return, because you must file Form 8606 any time you make non-deductible contributions. You can request a free transcript of your past tax returns by contacting the Internal Revenue Service at (800) 908-9946. You could also file Form 4506-T with the IRS by mail or fax to receive a transcript, or follow instructions at the IRS website to order a transcript online.
Step 4
Read up-to-date financial news. Keeping track of your IRA also means staying abreast of changes that may affect your IRA. While most of the rules affecting IRAs are perennial, modifications to IRA law can and do occur. For example, in 2009 the IRS waived the usual requirement for IRA owners over the age of 70 1/2 to withdraw a minimum amount from their IRAs. While that type of news may be far off in the future from your perspective, other laws that may have a more immediate effect on your IRA could spring up at any time.
Photo Credits
Jupiterimages/liquidlibrary/Getty Images